Eyelush
is the sister site to Madeup. Our lash technicians look after all our brides and as makeup artists we'll discuss with them your 'look' so that your style of makeup is reflected in the lashes e.g. Natural, vintage sweep or full on glamour.
Where does the treatment take place?
In the Studio above Madeline House hairdressing, High Street, Bishops Waltham, SO32 1AA. Please visit our contact page for a map of our location.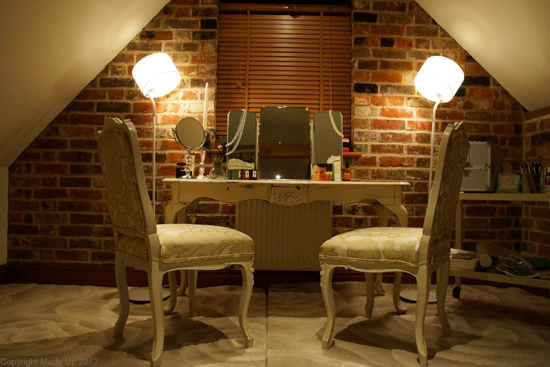 How long does the treatment take?
The first application will take approx one and a half hours. A little of that time is taken up with a consultation to find out how you want your new lashes to look.
What do they look like?
That's up to you. Everyone is unique so you could have natural looking that looks like two coats of the best mascara, or something longer and thicker. Either way, the look is based upon what you want and what your natural lashes can take, but will always mean something more luscious and lifted than you have now.
How long do they last?
The average natural lash line has three lengths of lash, a very fine baby one that cannot take the weight of an extension, a mid-length lash that will be growing for another three to four weeks and a full length lash that could fall out at any time. It is estimated that we lose about 4 eyelashes per eye per day, usually it's the longest lashes that shed to allow a new baby hair to come through. A good Eyelash Extension Technician is aiming to attach the lash extension to your mid-length lash to ensure a good 3-4 weeks of owning the lashes. Sometimes, if your lash growth is slow these last up to five weeks, it's a very personal thing and we won't know until you have owned and lived with them for a while. So if you had a set applied and did nothing more, you could expect to lose the whole set within approximately 6 weeks, however if you want to maintain them, when you notice a decline in the number and thickness of your lashes it's time for some infils, usually 3-4 weeks, to keep the lash line looking fabulous.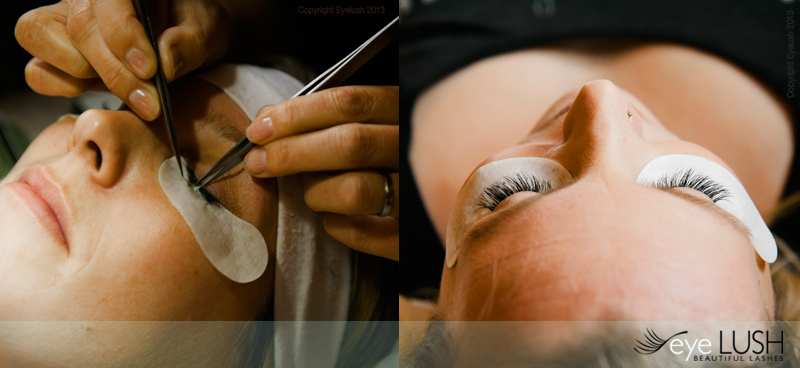 How do I prepare for extensions?
Before lashes are applied some consideration is required. If you suffer from sties, conjunctivitis, bruising, swelling or alopecia then you will have to be patient until you can experience the extensions. Otherwise please arrive mascara-free and to have avoided using eyelash curlers 48hrs prior.
My lashes are very fair or very short can I still have extensions?
Most definitely you can.  We have a magnifier with a special coloured lightbulb to highlight those tricky to see or very pale lashes.
I want these for my wedding, when's the best time to get them done?
As most ceremonies are at the weekend we'd suggest a couple of days before the big day. We do have early morning appointments and late evenings too, so we can fit in around your hectic schedule. The Thursday/Friday before your wedding is the best day – it's a lovely time to start your beauty preparations and there is a nail technician downstairs offering mani/peds so we can co-ordinate some treatments for you all in one place.
I'm tempted but also a little nervous, can I try them out in some way?
Yes, with what we call a 'Taster Set.' This uses about half of what a full set would be but gives you a good idea of what they feel like to wear, how easy they are to look after, how long they last with you and how they definitely do not cause you and your own lashes any harm.
Do I need to be tested for any allergy to the glue?
The extensions are applied about 1mm off your natural lash line, so although the glue doesn't come into contact with your skin, there is always a possibility that you will be that very rare person that reacts in some way, so we offer a free consultation where we will put a small dot of glue on your wrist and ask you to feedback on any reaction. This needs to be done a minimum of 48hrs before your first lash application. You are important to us and we want to assure you that we care about not only how you look but also how you feel.
How should they be looked after?
Something this desirable is going to take some looking after, so once you have your luscious lashes, 
here are our top tips for keeping them looking fabulous:-
For the first 48 hours avoid heat and steam, ie sauna/steam rooms and solarium and also no showers/potentially steamy bathrooms for 5 hours after treatment, to allow glue to fully bond.
Don't use waterproof mascara or oily eye-make-up removers. These two are the enemies of your new lashes! Where possible avoid mascara altogether
as this will save having to rub the extensions to remove the product.
Don't perm or use eyelash curlers.
Don't pull the lashes or rub the eyes.
If possible try not to sleep on your lashes, so if you sleep on your front or you really snuggle into a pillow you may wake to see a few crossed over lashes, we'll be giving you a little brush to them back into place.
The more you look after your fabulous new additions the longer they will last.  In the unlikely event you don't want to upkeep or want them removed before they fall out with your natural cycle, we will be happy to remove them for you.  The process is quick, easy and painless, so don't try to do this at home as there is a danger that tugging the extensions will also pull your natural lash. The majority of our clients visit for infils every 3 or 4 weeks, the treatment takes approximately an hour and your lash line goes back to looking fabulous.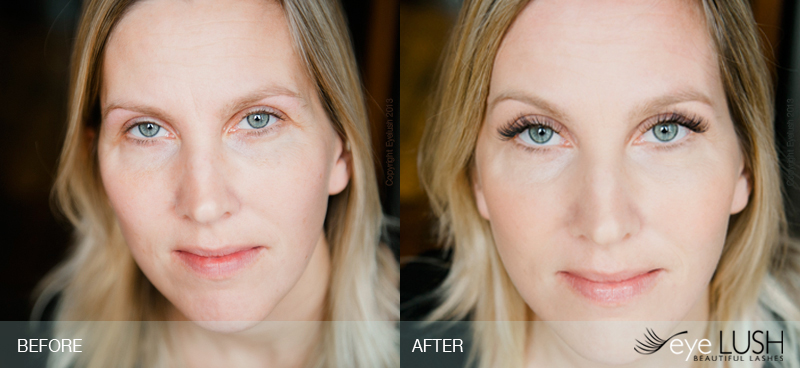 Eyelush Prices
Taster set: £50 – approx one hour
Full Set: £75 – approx one and a half hours
Infills: £45 – approx one hour
Removal: £25 – approx half an hour